We are more than software developers, we are your partner in digital transformation.

The emergence of new technologies has gradually changed the behavior of the customer who expect fast and efficient delivery of services and products. This has pushed many organizations to think beyond the traditional way of doing a business. It pushed them to adopt digital initiatives and facilitate digital transformation.
By digital initiatives we understand any transformational step made by a business by means of technological advancements, from automating document flow to heavyweight VR and blockchain. Thus, companies are now engaged on a journey to introduce innovative software solutions to respond to customer needs and expectations, create quality experience for them while streamlining business processes, improving productivity and driving maximum profit.
So far so good. But how do you facilitate digital transformation?
The challenge is to find experienced and dedicated software developers who can work as an extension of your in-house team and help you in building robust and extensible applications for your business.
Companies providing software product development services must also guarantee high quality, trusted services and top performances.
What customers appreciate is our expertise finished by the final touch of soft skills. Moreover, our customers have the guarantee that it is not all about carrying out the most complex solutions, but to carry out the solutions that best suit their needs. This can be a standard solution, e. g. project management, or an all-inclusive specially tailored complaint management just as well.
The full Software Development Life Cycle include
Software Consulting: services centered around your specific needs
Software Development: customized software implementation
Software Services: support and maintenance for your applications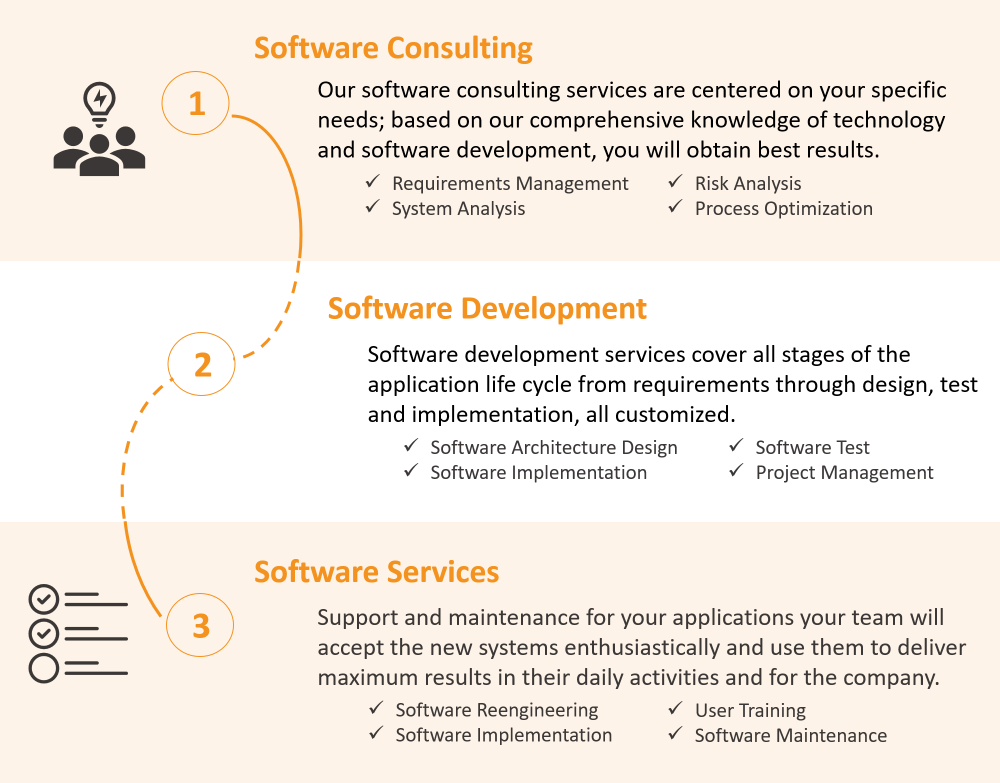 If you are looking for high quality, trusted services and top performances for your digital transformation project, give us a call. Nearshore-Romania has an experience of over 20 years in software development and has always been an early adopter of revolutionary technologies.